Freejet 330UV LED Promotional Product Printer
The Best Quality UV LED Printer in its Class
Request a Free Demo Today!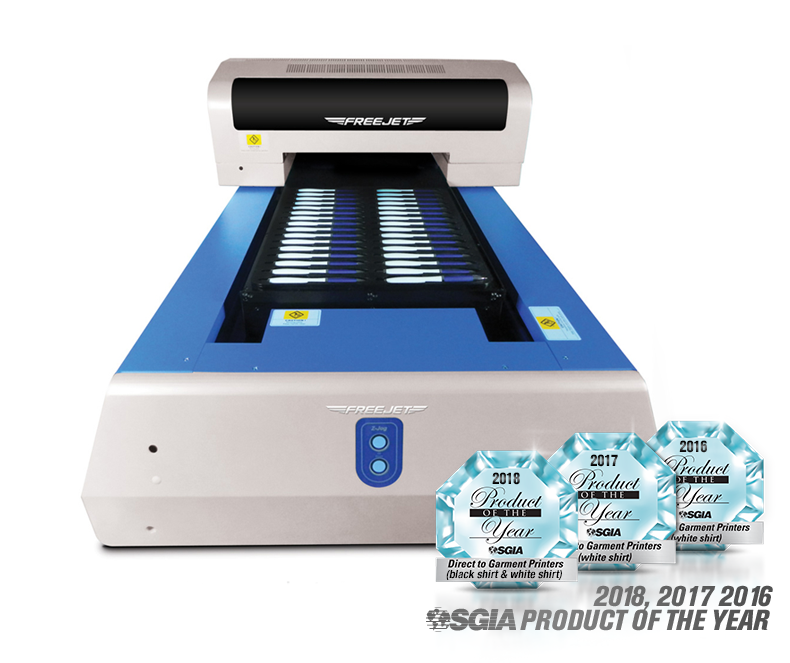 Bring Your Graphics to Life.
Friendly technical support
Easy to use and maintain promotional product printer
Print to glass, metal, ceramics, wood, plastic and other surfaces
Fastest LED UV printer in its class with bi-directional printing, single-pass printing for white under base and color ink, and double LED lamps
No dry time, no heat press: products are cured and ready to package immediately
Profitably print phone cases, pens, bottles, golf balls, and more
Promo Printing. The Future is Now.
Promotional products distribution is a steadily growing industry with thousands of product types with a constant demand for personalization and quality. But one thing promo products distributors can't avoid is the cost of producing items. Even the most efficient distributors net margins of 35% or lower.
After experiencing success in the direct to garment printer niche, the experts at OmniPrint carefully engineered and launched the Freejet 330UV LED promotional product printer. The 330UV has the capacity to print in vibrant, full color onto all types of promotional products using industry-standard high quality CMYK and white inks.
When you use the Freejet 330UV and our Direct Ink UV/LED ink, every order can be profitable, even very small short run order, at prices your customers will find very affordable.
The Freejet 330UV Solution:
Stop Outsourcing Promotional Product Orders
The Freejet 330UV, based on its sibling the Freejet 330TX, is the best quality UV LED printer in its class as well as the best value. The 330UV is the ideal solution for a promo products business seeking to double profit margins and it's an incredible addition to any existing imaging business or DTG shop looking to expand available product lines.
Slash Lead Times Dramatically
Most UV-LED printers have slow print speeds because they use unidirectional printing and a single lamp for curing. OmniPrint has broken the mold with a second lamp for curing, which enables bi-directional printing. These innovations enable dramatic improvements to production speed!
The Best LED UV Printer on the Market
Printing with the Freejet 330UV requires no dry time or need for a heat presses. With one pass, the dual LED lamps cure the ink while printing. When the print pass has finished you have a finished product with no additional steps required. You can literally print your way to the money. Expand your business offering with the Freejet 330UV.
Direct Ink UV: Vibrant, Eco-Friendly Prints
Using our Direct Ink UV (powered by DuPont Artistri), the Freejet 330UV produces superior color range and vibrancy. Our eco-friendly UV-LED inks are also 100% VOC-content-free. Not only does Direct Ink produce great results, it works with a closed bulk ink system, lowering costs and increasing profit margins. Speak to one of our UV experts today and get started.
| Printer Model | FreeJet 330UV Direct to Substrate UV LED Printer |
| --- | --- |
| Dimensions | 25" x 44" x 18" |
| Weight | 150 lbs. |
| Print area dimensions | 12.79" x 22.75" |
| Height Adjustment | Automatic, up to 5" |
| Power Requirements | AC 110/220 25W; 70 VA active/20VA idle |
| Available platens | Pen, Golf Ball, Phone Case, Bottle, Coaster and more |
| Printing Method | Direct to Garment Ink Jet Printing; Single-Pass for white base and color |
| Print Head Technology | Ink Jet Piezo Drop on Demand |
| Print Direction | Bi-Directional |
| Interface | USB 2.0 |
| Printing Resolution | Maximum 5760dpi |
| Software Requirements | Windows® 7 and later; Mac using Parallels or similar emulator |
| Ink Type | UV LED Direct Ink |
| Ink Channels | 8 Channels: CMYK + WWWW or CMYK + CMYK |
| Ink Supply Method | Sealed Bulk Ink System, complete white ink circulation |
| Pre Treatment | Optional for some substrates |
| Voltage | AC 110 / 220 25W |
| Power Consumption | 70 VA (varies on activity) 20VA (idle) |
| Environmental Conditions | Temperature 10-25C / Humidity 50%-80% |
| RIP Software | Direct Rip Included |
| Printing Substrates | Man-made materials of all types |