Due the nature of direct to garment being a relatively easy process a new owner may end up taking on more than he/she can chew. Taking on a big print job that is due around the same day as your training can cause you major amounts of stress, frustration and maybe even a low quality product. Although having orders already with demand to be printed is what you want, you should also want to provide that customer with the highest quality. When taking on a new business venture there is always going to be a learning curve, especially when machinery and design are major elements.
The basic training process for DTG should take about 1 day. The operation of the printer, how to pretreat garments prior to printing, how to use the software and proper printer practices along with maintenance requirements are some of the major things you will be trained on. One of the best things you can do to learn DTG printing is doing exactly that, printing. Take an old shirt and print on the front and the back, then turn it inside out and print some more. You want to make the machine your baby, print all the designs you have and better yet try creating some new ones.
The more you print and experiment you are going to learn a lot of things just from the constant repetitive process. You will start to see what good and bad pretreatment jobs looks like, how poor image quality can have a giant effect on your print. Systematically you will be learning all the ins and outs of your printer. You most definitely will be calling tech support or referring to your training videos and documents to understand why something is happening or what to do again.
By giving yourself time to print and print, just you and this machine are going to reach a point of comfort in what you are doing. You will also reach a point recognizing the quality you can achieve. As a standard guideline I always suggest 2 weeks. In many cases it takes less with some people feeling ready to go in under a week. It all really depends on the knowledge you have in the process prior to purchasing a printer.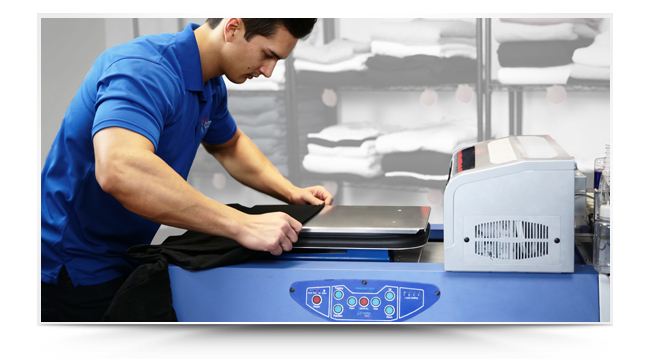 Let people know in advance that you will be offering DTG, most definitely get the word out to generate those orders. Just give yourself that time you need and let people know that you will be starting production around 2 weeks after you have received the printer. Then let the happy and return customers roll in.
The other scenario of taking on jobs to print the day you get your printer is going to create a hectic start for you. Depending on your knowledge and experience it could be the first and last time you print for someone. Here are just a few things you can expect when this route is taken:
• Constant calls to technical support because you don't understand why you are getting certain results. Often related to improper pretreatment, poor graphic image quality or printer not started and maintained properly
• Poor wash
• Inconsistent print quality
•Wasted ink, pretreatment and garments
• Returned orders
• Damage to printer
• Dangerous levels of stress
OmniPrint International prides themselves on training and education being of the highest standards. With one on one training, videos and documents at your fingertips you should never feel stuck. Giving and sharing with you all the knowledge we have combined with over a decade of experience working with DTG printers is definitely a major key to your success.
– By Paul Green