Everybody hates the "DTG Square"; the pesky side effect that has plagued DTG printers since direct-to-garment printing was first introduced to the market. You may not be familiar with the name, but you're definitely familiar with what the "DTG Square" is. This is the dark heat press square mark left on your garment following pretreatment drying or curing via heat press, changing the look of the garment and rendering it basically unusable or requiring a wash.
Luckily, at OmniPrint we are focused on bringing value to our customers and bringing the industry forward. With the use of our own R&D facility, in-house chemist, and R&D Engineers we have been busy running tests and analyzing a new way to reduce the "DTG Square" while cutting your drying/curing times in half and boosting your production numbers! Yes, you read that correctly! The impossible has become the possible thanks to integrating a Stahls' Hotronix heated lower platen into a Stahls' auto-clam heat press for the pretreatment drying and ink curing process.
For a long time, we have been working with our friends at Stahls' Hotronix because of their commitment to the customer, their high quality products and their innovations in heat curing technology.  We worked to create and test a process to bring this lower heated platen to the DTG marketplace and we are very proud of what these findings will do for our customers.

Our Findings
Using a traditional Stahls' auto-clam heat press, a pretreated dark cotton shirt took 48 seconds to dry at 320 °F. When the same type of pretreated cotton shirt was dried using the auto-clam heat press with the Stahls' Hotronix heated lower platen, it dried in 24 seconds at the perfect temperatures selected for the top and bottom of the heat press, exactly in half the time that it took for the traditional top heated press to dry the pretreat. The dual heat on both sides of the garment work together to efficiently dry pretreatment and cure ink in half the time while limiting the dark square on your garment.
The test analysis concluded that by integrating a lower platen into your heat press, ink curing times were improved by 66% and pretreatment drying times improved by 50% while drastically reducing the "DTG square" in both cotton and polyester garments, following the appropriate instructions.

In conclusion, the DTG Square's days are numbered thanks to the amazing research and development team at OmniPrint International. The Stahls' Hotronix Heated Lower Platen will become a vital tool for the DTG industry for saving production time and most importantly, reducing that DTG Square once and for all! This means less wasted garments, more prints in less time, and more opportunity for revenue at the end of the day.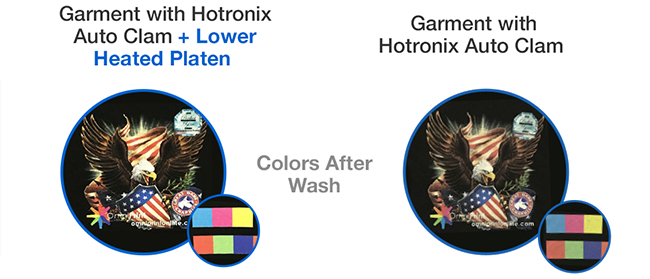 We like to know that anything we release will truly bring value to our customers and actually work as we claim.  Nobody had done this for DTG, so we needed to find out if this would work. For that reason, we got nerdy with this and spent a lot of time in our lab testing the ins and outs of the heated lower platen.  We tested everything from reduction in curing times with special thermal cameras to wash test results. We documented everything in our secret study to ensure this will save you time and money. All this information is available to you upon purchase of the Stahls' Hotronix heated lower platen.
Faster drying and curing times means less down time, which translates into more profit. The less time you're waiting for a garment to cure or dry, the faster you can get the next tee.
For the best value on this game-changing technology, purchase our exclusive Heated Lower Platen Package from our online shop! Shop Now
Our Standard Package includes:
New Heated Lower Platen (Compatible with the following models of Hotronix and MAXX heat
presses: STX, MAXX, XRF, XRF2)
Free Step-by-Step E-Guide on how to increase your production with this solution.
Free Bottom cover
Free In-House Scientific Study with wash test results
Free Extra year Warranty ($50 Value!)
Free Shipping in the continental US
Why OmniPrint is the by far the best place to purchase this solution.
Our team perfected this solution for DTG and we have the test results to prove it!
We have the best value bundle where you get more for your money!
This is the only place you can get the detailed how to E-guide for DTG!
You get download access to the scientific study proving this works for you!
We offer the best support for our customers!
Shop Now
Call today for More Information or fill out the form below to request your Free eGuide. (888) 479-3496