Freejet 500TX DTG Printer
Wet Cap. No Clogs. Always Ready.
Request a Free Demo Today!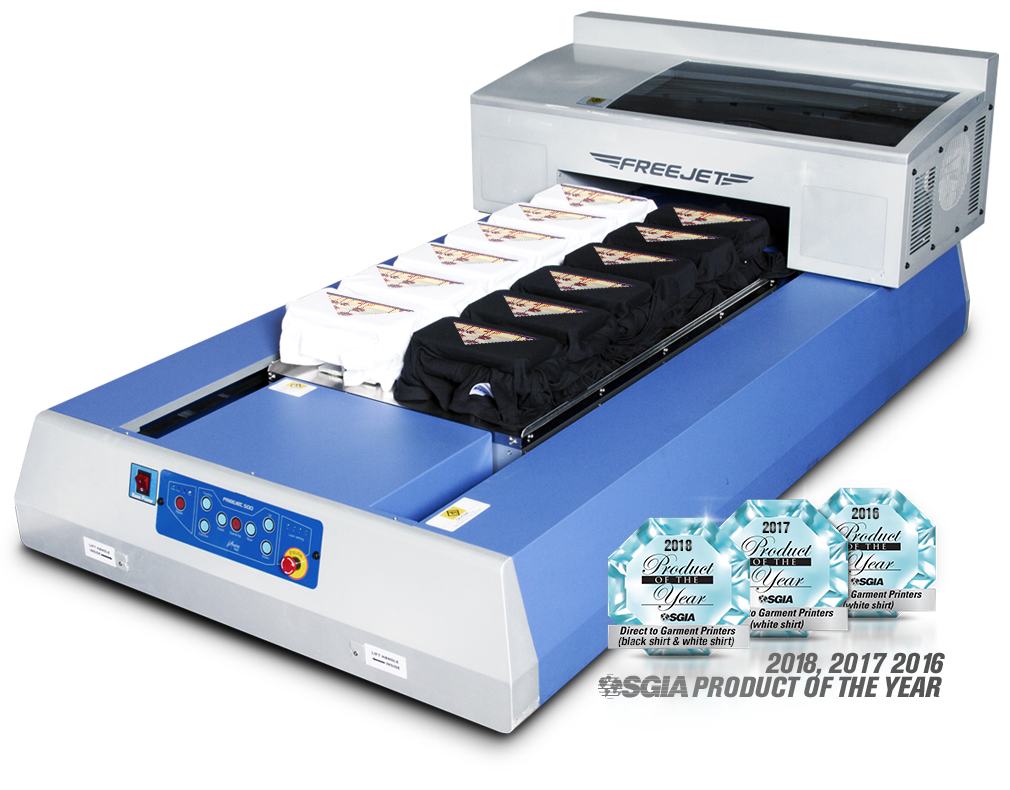 Vibrant, Full-Color Prints.
WetCap No Clog Maintenance System
Print hats, hoodies, towels, tote bags easily with our removable platens
Extra-long print area of 17 x 30in
Dual shirt printing capability
Increased speed and workflow capabilities
Clog preventing WetCap maintenance system
Industrially manufactured textile printer
Bulk ink system saves you money
Prints on light and dark garments
Automatic laser height adjustment
Super-fast DirectRIP software
The Future of Garment Printing is Here.
Direct to garment printing is a rapidly growing segment in the garment decorating industry. With the FreeJet 500tx you can offer full color, short run, direct to garment printing without the setup cost and time associated with traditional printing methods. With direct to garment printing you can fulfill the highly customized print jobs of today's on-demand print customers.
This new technology translates into a high profit margins and capitalizes on the demand from corporate customers, non profit organizations, school athletics and more.
The Freejet 500TX Solution
OmniPrint developed a new solution for higher-production environments to eliminate delays, maintenance burden and slow RIPs. After selling hundreds of entry-level direct to garment printers, OmniPrint innovated a faster DTG printer, the Freejet 500TX. Like the 330TX, it has the capacity to print in vibrant, full color onto light and dark garments, using industry-standard high quality CMYK and white inks.
The Freejet 500TX model is the step-up to the 330TX, the best quality printer in its class as well as the best value. It has a very large printable area and enables fewer setup steps for processing multiple garments or promotional products.
The 500TX is the ideal solution for a home-based business or an existing garment decorator looking to supplement their screen printing or embroidery business. It's also suitable for a contract printer who wants to churn out larger DTG print orders or for commercial print businesses.
The FreeJet 500TX- A Step Above Other DTG Printers
While other DTG printers suffer from clogged print heads, slow printing processes, component breakdowns, and poor color matching, The FreeJet 500TX is reliable and offers unique features and systems that significantly boosts productivity. OmniPrint's FreeJet line of printers are the preferred choice of experienced DTG owners looking to add to or replace their existing machines. Find out why we are the best in DTG.
Hassle Free, No Clog System
The FreeJet 500TX comes standard with our industry exclusive Wet Cap maintenance system, designed to maintain and preserve the life of the print head. This feature creates an air tight protective enclosure for the print head, safeguarding it against clogging. Even when not in use, the FreeJet 500TX can stand for weeks without the need for daily maintenance. This means when you're ready to print, the machine will be ready too. FreeJet, the hassle free DTG!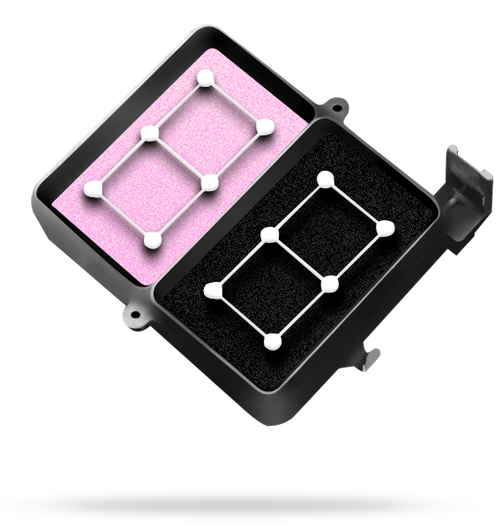 Industry Leading DTG DirectRip™ Software
Software built Exclusively for direct to garment printing
Automatic white base generation
No RIP time with Print-While-RIP technology
Automatic ink cost calculations
Request a Free Demo Today!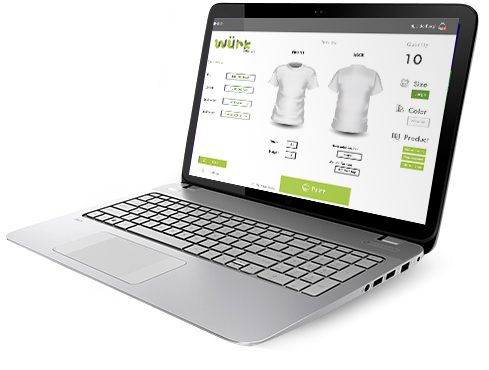 Direct Ink -Superior Prints and Lower Cost
Ink cartridges for DTG are becoming obsolete for a reason. If you are using ink cartridges you are spending too much on inks. Using our bulk ink systems allows you to purchase inks in large bottles and reduce your cost per liter by over 50%. This translates directly to your profit. With our proprietary 'High Flow' Bulk ink system you get the best of both worlds; cost savings and the superior ink flow required for direct to garment printing.
Printer Model
Freejet 330TX
Freejet 500TX
Freejet 700TX
Dimensions
25" x 42" x 18"
24" x 50" x 24"
47" x 90" x 47"
Weight
150 lbs.
300 lbs.
480 lbs.
Print speed: white garment
10x10 image,


45 seconds at 1440x720

10x8 image,


1 minute

A1 5 minutes


@ 720 dpi

Print speed: dark garment
10x8 image,


4 minutes

Print area dimensions
12.79" x 22.75"
17" x 30"
17" x 30"
Height adjustment
Automatic, up to 5"
Automatic, up to 5.9"
Automatic, up to 5.9"
Power requirements
AC 110/220 25W;
70 VA active/20VA idle
AC 110/230 25W
AC 230/110, 25W
Available platens
Hat, 2 up adult, regular
adult, youth, sleeve, infant
Smart platen
configurations available
Smart platen
configurations available
Printing method
Direct to garment ink jet printing
Print head technology
Ink jet piezo drop on demand
Maintenance
Auto maintained with wet cap no clog system
Print direction
Bi-directional/unidirectional
Interface
USB 2.0
Printing resolution
Up to 2880 x 1440
Software requirements
Windows® 7, XP, Vista, Mac using parallels or similar emulator
Ink type
Direct Ink powered by DuPont Artistri
Ink channels
8 Channels: CMYK + WWWW or CMYK + CMYK, 180 nozzles per channel
Ink supply method
High flow bulk ink system
Garment pre-treatment
Required when using white ink
Voltage
AC 110 / 220 25W
Power consumption
70 VA (varies on activity) 20VA (idle)
Environmental conditions
Temperature 10-35C / humidity 20%-80%
RIP software
DirectRip Included
Printing substrates
100% cotton and cotton blends
Best Substrate Versatility on the Market!
With our Interchangeable Platen System and moving head technology you can virtually print on anything with ease. Instantly print on t-shirts, hoodies, hats, towels, mouse pads, jeans, and much more!
Request a Free Demo Today!