Direct Ink Gamut Plus
The Best Direct to Garment Ink on the market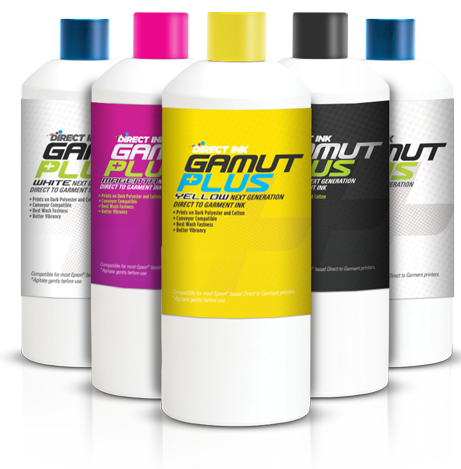 The Gamut Plus
Performance Advantages:

Print On More Product Types
Including Dark Poly And Poly Blends
The freejet 330TX plus print engine moves over your product dramatically increasing print quality because your product does not move during the print like other systems. High resolution prints achievable up to 5760 dpi on dark and light garments using a combination of our Direct Rip Technology and our Gamut Plus Inks.
Curing Advantages
Conveyor dryer or heat press curing allows for fast cure times
Production Advantages:
Faster Setting White
Gamut plus inks can help you optimize your production. Our inks are designed to "set" faster which means you can take advantage of the one pass modes on you printers and no more waiting for white ink to set before printing the color pass.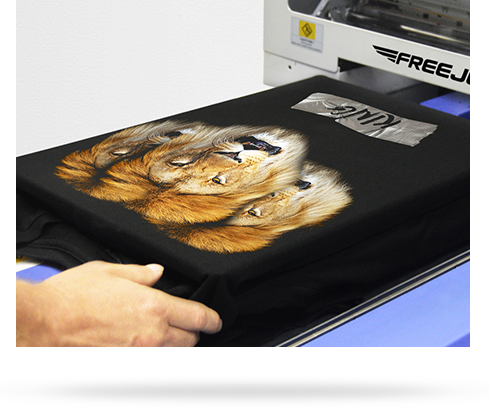 More Reliable
Gamut Plus inks flow better in your printer this means more reliable printing with less less head cleanings required.
Exclusive Technology
Not another copy of existing ink. This is a patented NEW technology never seen on DTG inks and only found here at OmniPrint International.
How Gamut Plus
Competes With The Rest
Features
Ours
Others
Color Gamut Charts
Highest after wash fastness
Start good but washout
White Level Charts
Best white point
Weak white performance
White L*
Plus 90
Below 90
Curing
Press & oven
Press only
Cure Time
Dark - 90 sec (2x)
Light - 45 sec (2x)
3 min cure
Recommended Cure Temp
Cotton 320°F
Polyester 220°F
-
Fabrics
Cotton, Cotton/Poly
Blends, Polyester
Cotton,
Cotton/Polyester Blends
White Lay Down
Covers fibrillation
(few volcanos)
Pin holes through out
White Quick Setup
White support single
pass printing
Pin holes through out
Batch To Batch Reliability
Gamut plus are built from the ground up to insure quality and repeatability. With our state of the art USA based ISO9001 Certified plant and the highest of quality standards means that every single bottle is going to perform the same every time and you can rely on consistent results print after print.
Compatibility:
Use Gamut Plus on any direct to garment or direct to textile printer using Epson(R) DX5, DX7 print heads. Check our compatibility page regularly as we are currently testing and certifying heads monthly. When in doubt email us for more information about compatible printers.