Kinetics Wurk Software
Wurkflow Re Imagined

Wurkflow Re Imagined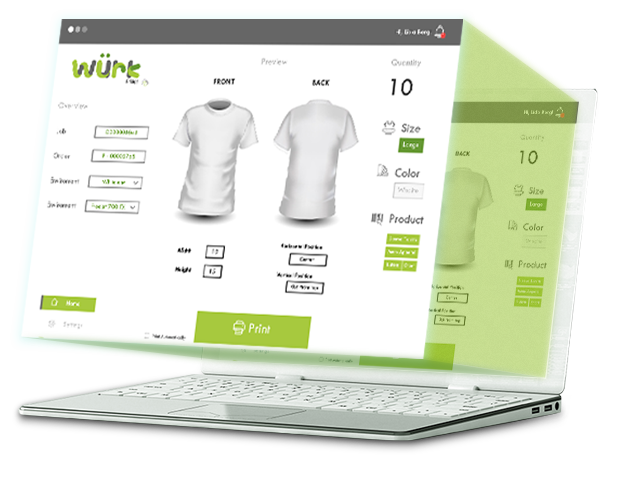 Wurkflow Re Imagined
Wurk manages your print jobs from the creation to shipping and every stage in between.
Monetize Rush Orders And Control Inventory Better
Manage Print Orders
Bar Code Label printing
Wurk Bridge
Simplify Your Billing
Monetize Rush Orders And Control Inventory Better
Order Stage Management & Checkpoints
Wurk Is A Web Based Print
Order Management System At Its Core
Receive all your orders from multiple locations including our our live link, and phone based orders. Each order source is managed as a Wurk Store.

Live Order Entry And Art Preview
Allow your customers and print brokers to directly enter their own orders into your wurkflow system. Wurk checks every image to make sure the quality is good enough for printing.
Wurk Bridge
Wurk Bridge will deliver all the orders automatically to each printer. It will allow the operator to simply scan the barcode on the product and your Wurk enabled printer will start printing the order automatically. Wurk will also synchronize the individual print settings needed for each product in your inventory.
Monetize Rush Orders And Control Inventory Better
It also manages your rush orders and product inventory. Many store integrations are coming like shopify, woo commerce, magento, and more.

Rip Software Integration/ Hot folder & XML
Wurk is integrated seamlessly via xml to all FreeJet Direct to Garment printers and other direct to garment printers.
Intelligence Dashboards
Job history and Reporting - With the wurk dashboard you can get instant visibility of your production floor. Printer level metrics tells you which printers and which users are performing the best and what jobs are being done and much more.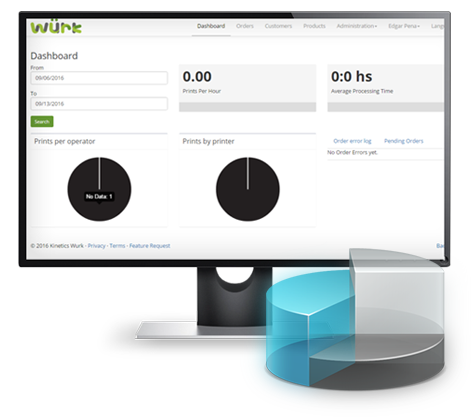 Customer Communications
Keep your customers engaged with notifications about their job progress this is a critical time saver.
Simplify Your Billing
Wurk integrates to your payment accounts to bill for your orders as they are entered saving you time and money in your account receivables operations.